Christchurch man cycles 700km every month as part of bike advocacy push
Don Babe cycles more than 180 kilometres to work every week, and even more on the weekend.
Each month the 59-year-old Cantabrian rides more than 700km on his daily commute from his rural property near Lincoln to Merivale, where he works as an accountant.
He can not remember the last time he took his car to work.
Babe has dedicated himself to encouraging others to do the same, maintaining a vision from Spokes Canterbury that by 2020 Christchurch will be considered one of the top five cycle cities in the world.
For that role, his role as chairman of the Christchurch-Little River Rail Trail Trust and treasurer of Cycling Action Network, he was recognised at the Kiwibank Local Hero awards along with 37 other Cantabrians.
Babe said he chaired both groups to create cycling environments that can be enjoyed safety by all.
"Cycling is the answer to so many of the world's problems," he said.
Babe said he had lost nearly 8kg since he started cycling and had had to eat twice as much just to stop losing weight.
"The last time I was this weight, I was about 14."
Babe said he had "bad experiences" on the road about once a month, but he waved out to and thanked courteous people at least twice a day, so it was a good trade off.
Cyclists, motorists and pedestrians were all from the same pool of mostly great Christchurch citizens and even inconsiderate drivers rarely mean any harm, he said.
His daily commute by bike takes about 50 minutes. Babe said when when he drove, the journey was about 40 minutes by the time he navigated traffic, found a park and walked to the office.
For the additional 10 minutes, he was able to get plenty of exercise.
More important to the father of three were the environmental benefits.
Babe and his wife planned to visit Australia's Great Barrier Reef this year so he would be able to describe it to his three grandchildren before climate change caused further damage to the coral.
Moving on from the almighty car: A change up for Christchurch's transport mix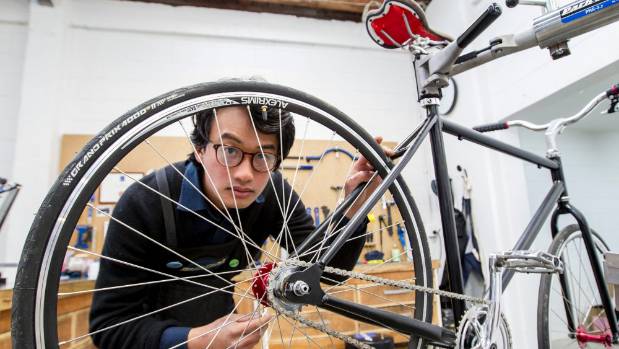 In car-centric Christchurch, it still feels a brave call. Charlotte Bebbington and Ken Ching have opened a shop in the central city selling chic urban commuter bikes.
Bebbington is a young graphic designer returned after eight years in Shanghai. Ching is a Singaporean whose family developed the eZee Kinetic electric-bike range.
And their store – Action Bicycle Club – is certainly something different.
The usual Christchurch cycle shop is a shrine to sweat and testosterone. All fluro go-faster gear and grunty mountain bikes or spindly road racers.
Action Bicycles sells step-throughs with full fenders, chain guards, bike stands and sturdy carrier racks.
Bebbington says not only are these traditional push-bikes practical, they are meant to spell out that life is not a perpetual race with cars. It is OK to pedal the roads at a gentle pace in the clothes you want to be wearing wherever it is you are going, a real psychological shift for Christchurch cycling.
Bebbington shows off the fashion-forward range of helmets for women. You can have a lid in fake crocodile skin or faux leopard pelt. There are special handbags with hidden clips that click on the back rack.
For rain, you want these simple ponchos, she says. Again wrong for speed, but right for urban cycling.
"The customers are young professional women in their 30s. They've seen the fashion ads of a girl on a step-through with a wicker basket, riding down to her local cafe," Bebbington says.
Ching shows off the more functional looking e-bike range. Battery assisted, this is another way of getting around in ordinary work clothes without a sense of battle and sweat.